Symptoms and Signs of TMJ
Treating TMJ in Westlake Village is easier when you can identify your symptoms
Temporomandibular joint dysfunction or disorder is known as TMJ or TMD. This disorder is associated with pain in the jaw that makes it hard to complete daily tasks such as talking, eating, drinking and so on. Jaw pain in Westlake Village can be a clear sign of TMJ, but there are also many others you should be aware of. Tenderness in the jaw area as well as an aching pain in and around your ear are significant signs of the disorder. Because TMJ has to do specifically with the joint holding your jaw in place, locking, popping, clicking or grating are also common symptoms. One of the easiest ways to tell if you are having an issue with the Temporomandibular joint is to look in the mirror while opening and closing your mouth like you normally would. If you notice your jaw does not open and close in a straight line, it is likely you should visit our office for treating TMJ in Westlake Village. Check out our patient reviews and see what your neighbors are saying about their treatment with us at Westlake Village Dentist.
Find Out If You Have TMJ
Jaw pain in Westlake Village isn't the only sign of TMJ disorder
"I knew crowding would become more problematic"
"Dr. Looyzadeh first proposed the idea of putting me through Invisalign. I was interested just because I knew from previous talks that the crowding as I grew older would become more and more problematic. I was definitely interested and he talked me through each and every step, made sure I knew what to expect. I do find myself smiling more, in progressions of pictures before and after I started, I see myself with a more wide open smile. I have no problem laughing and smiling in front of my friends, and giving a bigger smile during happier moments than before."
Matt S.
Thousand Oaks, CA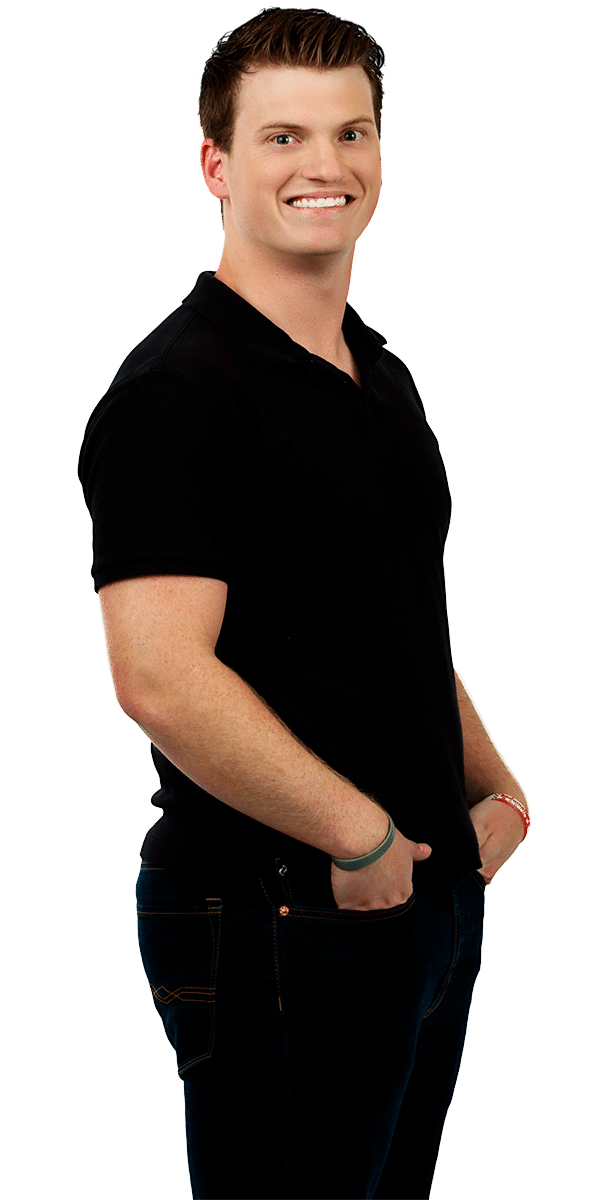 The Process of Treating TMJ in Westlake Village
Here's how we treat jaw pain at Westlake Village Dentist
At our office we want to make sure you get the best treatment for your jaw pain in Westlake Village, so we provide all of the latest technology necessary in our office. To start your diagnosis and treatment for TMJ, our dentist performs a CT scan to create x-rays, which allow us to see your current jaw structure. The dentist will also perform a physical exam of your muscles and jaw structure. Because the causes of TMJ can vary significantly, the dentist will walk through your medical history before suggesting the proper mode of treatment. Depending on the severity of
removed, your filling can be placed. Depending on the type of material you chose for your filling, the process can be somewhat different. There are many materials available for dental fillings, but the most common are amalgam and composite resin fillings. Simply put, the dentist will fill the missing parts of your tooth with the material of your choice to make your tooth good as new. Once your filling has been created and hardened, Dr. Melina Looyzadeh will make sure the filling is comfortable for your bite, then you are all set! Getting a dental filling in Westlake Village is a short and simple process that many people have performed everyday. If you are experiencing tooth pain you think is due to decay or a dental cavity in Westlake Village, call us today at (805) 495-7212 to schedule an appointment.
Check out some of the other services we offer at Westlake Village Dentist
Sit Back and Relax
Let our dentist in Westlake Village care for you
Westlake Village Dentist wants to make every visit and procedure the most comfortable for you. Our entire staff is ready to work to make you feel the best about your smile again. Just sit back, relax and let us get your oral health back to tip top shape!
We are available to answer your questions 24/7. Call us now.
"You Have TMJ, but Why?"
Treating TMJ in Westlake Village becomes easier when you understand the cause of your pain
"After diagnosis you may be wondering what is the cause of your TMJ, and the answer varies for many different patients. A lot of the time our patients clench or grind their teeth, which puts pressure on the Temporomandibular joint. Arthritis in your jaw can also play a huge part in the diagnosis of TMJ as well as just day-to-day stress. Stress in general can even cause one to clench or grind their teeth or jaw without even realizing it. Luckily we have options for you to relax your jaw muscles and start living pain free."
Dr. Melina Looyzadeh
Dentist